Xsjado 1.0 Toe Straps - Stockwell Black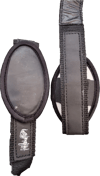 Sold out
Compatible with Xsjado 1.0 baseplate only.
S will fit size Small baseplate.
L will fit size Large baseplate.
Price is per pair (left and right).
PLEASE NOTE: This part is very old stock. Faux leather on toe straps will crack and peel, however Velcro will perform as intended. Pricing is reflective of these factors.